Hiking in Taiwan has been a passion of ours for a combined 35+ years. We promote travel on this beautiful island by leading group and private hikes and tours. We've fallen in love with Taiwan's natural beauty and culture and would love to show you all that the island, and its people, have to offer. Contact us for information on custom hiking tours or join us on a prearranged group hiking tour.

Hiking Taiwan's high mountains is a world-class hiking experience.  Taiwan has the second highest mountain range in eastern Asia.  Many of its tall peaks are easily accessible on a weekend trip from Taipei and they offer some breath-taking views and challenging climbs.
Overnight Hikes and Trips
Camping in Taiwan's lush forests can be an treat for the most rugged outdoorsman, or fun for the whole family.  If camping isn't you thing, comfortable, reasonably priced lodges and hotels are found all over the island.  We have a number of hikes that can easily be done in a weekend or extended into multi-day adventures.  So get out of the city and enjoy the mountains with us!
Single Day Hikes around Taipei
There are dozens of great day hikes within an hour or two of Taipei City.  These are our favorites.  Within a very short time, you can be surrounded by lush forest or enjoying a waterfall spa.  Contact us about private trips to these beautiful locations.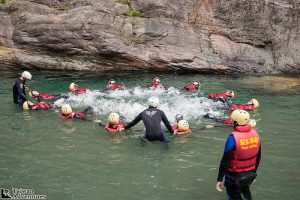 Joining one of Taiwan Adventures school trips will not only give students an opportunity to see Taiwan's outstanding natural beauty, but also allow them to experience and be inspired by nature. All of our school trips are led by experienced guides who are native speakers of English and have spent over 10 years in Taiwan.
Why Choose Taiwan Adventures?
Small Groups…  Our overnight group hikes average about 10 participants and never have more than 14.
Custom Service…  If you already have a group of friends or colleagues, we will customize any trip to suit your needs.
Knowledge…  Together, we have 35+ years of traveling and hiking in Taiwan.  We speak the language and know the terrain, weather and culture.

English Speaking…  Although all our guides speak Mandarin, we are native speaking westerners and the predominant language spoken on any hike is English.
Western Attitude…  We don't herd our clients like school children.  We allow for a bit of independent movement and ideas.
Great Food…  We serve a mix of Western and Asian food aimed to maximize nutrition, energy, and morale.  We can customize to suit any needs and tastes.
Safety…  All our guides are Wilderness First Responder (WFR) qualified and carry extensive first aid kits.
For such a small island, Taiwan has an extremely diverse range of terrain.  There's everything from hot, sub-tropical jungle at lower elevations to snow capped peaks in the winter months.
The highest mountain in Taiwan, and indeed all of North-eastern Asia, is Jade Mountain (Yushan).  It stands at an impressive 3952m and is also one of the top 50 most prominent peaks in the world meaning that on clear days there are awesome views to be had.  It is an excellent 2 day hike.
Taiwan also has some 300 mountains that are over 3000m tall, many of which are very accessible with well-maintained trails and basic cabins to overnight in along route.  Snow Mountain, Taiwan's second highest peak, is an excellent alternative to Jade Mountain if permits prove difficult to get.   Snow Mountain is always a favorite, and offers some stunning views, a wide variety of terrain, and a technical-free ascent.
Surrounding Taipei, you'll find an amazing range of trails.  You can challenge yourself on the exciting, exposed spines of Huangdidian or Wuliaojian or take a gentle stroll around Yangmingshan enjoy some of the park's amazing hot springs.